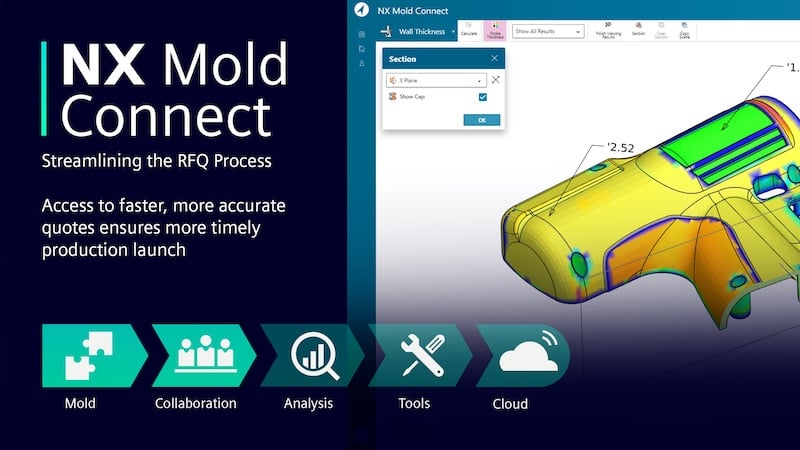 Siemens NX Mold Connect does just what its name says — it connects critical aspects of the mold design and build process together, in the Cloud, to help speed products to market. This collaboration tool allows OEMs and tool shops to collaborate during the early supplier involvement process of RFQ.
In our last blog, we introduced you to Oscar, a CAD designer for an OEM manufacturing company, and Samantha, a salesperson in a mold manufacturing company. They recently began collaborating in the Cloud using NX Mold Connect to accelerate the RFQ process to reduce the design cycle time for building tools for a new power drill case. In this installment, you will learn how straightforward supply chain management can be.
Get Up to Speed
Now that Samantha has subscribed to NX Mold Connect and her team of mold designers and engineers is on board and up to speed, she has been working with them on the BOM list and reviewing the materials and services her team will need and when so she can provide Oscar, (her customer), with a competitive quotation for the mold build.
Oscar uses NX mold design tools in conjunction with NX Mold Connect with his own team to create and refine product designs, with the designs being stored in the Cloud. Because of the interoperability between the applications, Oscar can work on designs from his desktop and stay synced with NX Mold Connect so that the design data is always up to date and accessible to everyone working on the same project. The Cloud essentially acts a central repository for all design data.
As a result, Samantha now understands how to use NX Mold Connect to receive in-app RFQ's from her customer. Oscar can send out an RFQ to multiple mold manufacturers to receive quotes from them all in one place. He can also manage multiple RFQ's in the Cloud without the need for file transfers or even email.
How to Win the Bid
Samantha, as the lead sales person for the supplier company, receives an email from NX Mold Connect whenever a new RFQ arrives. On her project with Oscar, she has already conducted an initial design review for moldability based on the latest part file of the power drill housing that Oscar has delivered, in real time, via NX Mold Connect.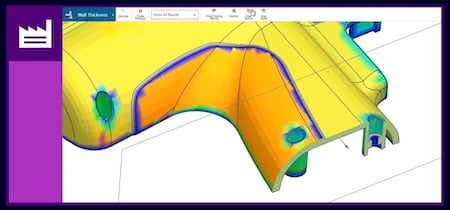 Use NX Mold Connect to confirm part manufacturability. Image Source: Siemens. Click to enlarge.
From within NX Mold Connect, she performs a DFM (design for manufacturing) analysis, plus Samantha and her team of engineers also used the AI-powered Feature Recognition tool. This enabled Samantha to quickly identify critical design features in the power drill design that, if missed, could cost her company dearly in both time and money. Using feature recognition technology early in the quoting process helps Samantha make faster, more accurate tool-costing calculations versus discovering expensive design issues after the raw materials have been cut. She can also save the tool-costing template from this project in the Cloud where it can be reused for similar projects in the future.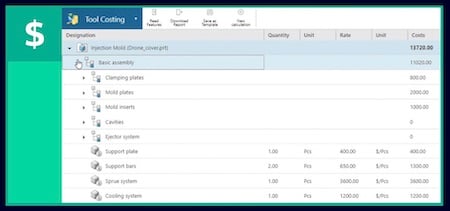 NX Mold Connect tool costing features help keep projects in budget. Image source: Siemens. Click to enlarge.
Samantha finds that NX Mold Connect is an ideal tool for working with Oscar and she communicates with him regularly. Oscar is pleased with Samantha's acceptance of working with him in the Cloud and responds quickly to her feedback and questions. They have gone through a couple of iterations using NX Mold Connects' viewing and markup tools, making it easy to communicate on design ideas.
Oscar awards the job to Samantha and her team, assured that with the help of NX Mold Connect he has received an accurate quote on a solid design that will get his parts into production, assembled, and to market within the desired timeframe. Her team of engineers and designers quickly get to work and use NX mold design tools to move forward with the tooling design. Because their quote is accurate, they increase their chances of making a profit on the job. Because the part design has been refined with the help of NX Mold Connect, the tooling design does not require any rework. They can deliver the manufactured plastic parts quickly to Oscar to shorten time to market.
Samantha believes that the opportunities to refine the part upfront with Oscar using NX Mold Connect has made this project run much more smoothly, and they resolved issues earlier in the cycle than previously.
Looking Ahead
Samantha reflects on the many mold making projects she helped her employer win from customers, and how challenging it is to stay aligned with the customers' design requirements, design changes, and other details.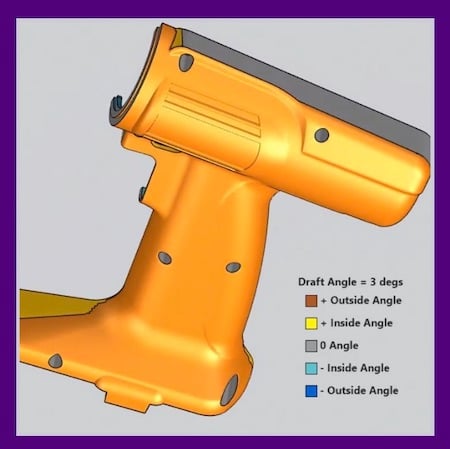 NX Mold Connect reduces design risk, saving money and time. Image source: Siemens.
NX Mold Connect provides the means to manage each opportunity with confidence that her bids will be competitive while also remaining profitable. It has also helped establish a more solid working relationship with Oscar and his team and she would not be surprised if there were more opportunities to work with him in the near future.
Stay tuned for more on this newly established level of collaboration using NX Mold Connect and how it can streamline the RFQ workflow, including keeping data synced, comparing RFQs, and more.
Start at the beginning and read Oscar and Samantha's mold design success story.

This article was written and developed by the editors of Cadalyst, the leading publication covering computer-aided design and related software and hardware technologies for the AEC, civil engineering, and manufacturing markets.
NX Mold Connect, NX Cloud, and NX software are property of Siemens and all other trademarks mentioned herein are property of their respective owners.
©2022 Longitude Media, LLC. Reproduction in whole or in part is strictly prohibited without written permission of the publisher.